Directed By:
Cody Jarrett

Starring:
Kristi Russell, Ariadne Shaffer and James Duval

Not Rated
Genre: Horror
Format Used: Netflix DVD
Contains: Graphic Language, Graphic Violence, Nudity, Graphic Sexual Content, Rape, Drug Use
THE PLOT:
Chemical waste seems into the ground water which kills most of the local life, all but one frog who it mutates into a human frogman thingy. Now the female population is in great danger from this amorous amphibian.

As the rape and murder rate of this once peaceful town goes up it's up to a local doctor to find the truth and find it fast.
ZEDD'S OPINION:
This is one strange, twisted and weird story and not in that good way. That's right, this is a low budget movie that is just too strange for school. The monster suit is just lame, and the acting could have been better. But I can still think that a certain part of the movie going population will enjoy this hap hazard T and A flick. Even I thought it was funny in points, but I'm not sure if that was the filmmakers were going for laughs or was it funny because it was so lame? Either way, you might find something you like this low budget loser, I did. Enough to give it 2 STARS.

VOLTRON'S OPINION:
Am I hearing things or did ZEDD just give this God awful pile of crap 2 STARS? I think he's being way too generous again. If the makers didn't intend it to be funny, then that is what makes it bad and deserves ridicule not praise. People who enjoy suffering through bad movies need to seek professional help. THE TURKEY!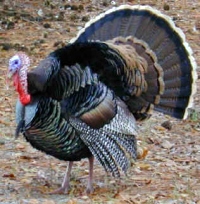 ON THE POSITIVE SIDE (+ HITS):
+ FUN (There are some fun elements in FROG-G-G!)
+ CLEVER (The title is clever.)
ON THE NEGATIVE SIDE (- MISSES):
- FROG SUITS (One of the lamest monsters of the 21st century.)
- ACTING (Some of the acting was way weak.)
- DIALOG (Cheesy dialog.)
- UNINTENTIONAL LAUGHS (If the laughs are unintentional, then it's not a good thing.)
...AND FINALLY...
- FAN BASED (Unless you enjoy really bad movies, then this isn't for you.)